LeSean McCoy Accused Of Beating The Crap Out Of His Girlfriend [Graphic Photo]
---
Somebody brutally beat LeSean McCoy's girlfriend Delicia.
Delicia's friend Mia says it was LeSean McCoy. She also accused the Buffalo Bills running back beating his dog and his son, and using steroids.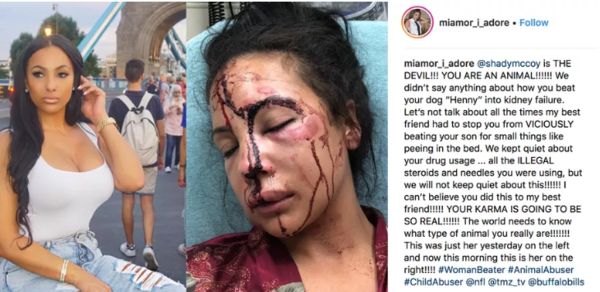 McCoy has a pretty "shady" history.
In 2013, he was sued for pouring water on a woman, hitting her in the face, and ejecting her from a party bus while on the highway. In 2016, McCoy was accused assaulting two f-duty Philadelphia police ficers. He wasn't criminally charged in either case nor was he disciplined by the NFL.
Update: Here's McCoy's response to the latest allegations.
Are you buying that?
Update 2: McCoy recently sued Delicia Cordon to kick her out a home that he owns. TMZ reports that yesterday an EMT responded to that home's street. There are only three houses on the street.
Here's the dispatch call, which came at 3:23 AM: